St. Pete Police Department's assistant police chief Luke Williams holds two young members of the Men In The Making mentoring program. Williams took the boys to the vigil sight where family and friends remembered the boys who lost their lives to gun violence. The boys broke into tears and hugged Williams. (KEYONT'E HOWARD | SNN)
By ALEXIS GARCIA­­­
SNN Staff Writer
It could happen to anyone. In a matter of seconds your life could be changed drastically at the hands of a gun. It doesn't matter if you're the person behind the gun or in front of the gun. Anyone surrounding the situation will be affected in some way, shape or form.
This is precisely what has happened in the St. Petersburg area. In the last two months of 2015, seven young males were shot and killed, many of them friends or acquaintances of Lakewood High School students.
The youngest victim was 16-year-old Lenny Acostas.
Shootings occur so often that people have become desensitized to gun-related deaths.
"It's not worth it. If you take a life you can't give it back. The pain you cause a family, the pain you cause your family, I don't think money or disagreements are worth throwing the rest of your life away," 22-year-old Joshua Walsh's mother, Christie Dunaway, said in an interview with SNN.
Lakewood junior Cierra Lynch knew Acostas for six years. She was on Snapchat getting ready to go to sleep when she got the phone call saying Acostas died.
"It hurt because that's someone I knew a long time and for that to happen, it's unexplainable. He never bothered anyone," she said.
The other boys were Tyler Lord, 17, Gabriel Wallace, 17, Jerrod Evans, 18, Jaquez Jackson, 18, and Aaron Davis, 25.
Lakewood junior Jeremy Williams said that he knew Lord since sixth grade when they attended Azalea Middle School together.
"We had a lot of classes together and we almost fought each other a couple times, and we played basketball with each other a lot," Williams said.
Williams said he felt shocked when he found out the news.
"You can want to fight somebody one day, but you don't want to see them dead," he said.
These deaths have affected many Lakewood students according to an SNN survey conducted in January. Data from 204 students showed that more than 60 percent of those surveyed knew one of the boys personally or knew someone who knew them. (See charts.)
The data also showed that:
More than 55 percent of students surveyed knew someone who had been killed by a gun.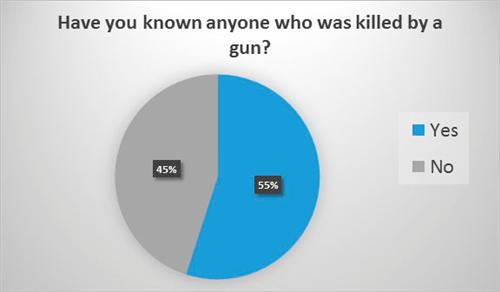 ·         About 61 percent of the students surveyed knows someone who was injured by a gun.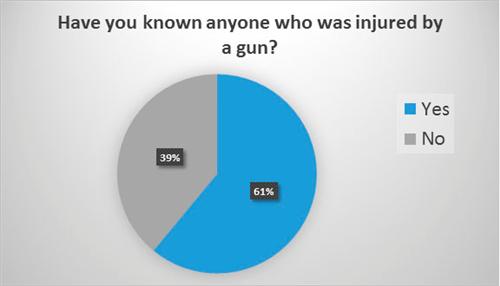 ·         Almost 35 percent of students surveyed say that they have a gun in their home.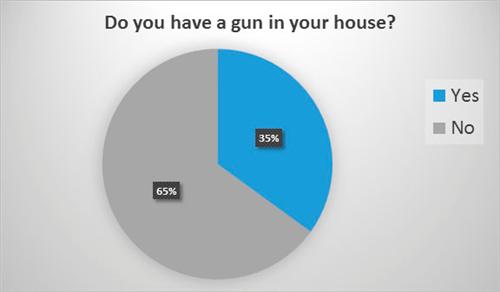 One of the reasons for the killings may be the increase in the number of guns that young people have access to. A lot of these guns were stolen from cars, Assistant Police Chief Luke Williams told SNN. The department takes at least two guns off the street every day, 365 days a year.
A lot of the guns are being stolen and used by kids – and a lot of the times they are from unlocked vehicles.
"How irresponsible can a gun owner be?" he said.
According to the Children's Defense Fund, in 2010, 15,576 children and teenagers were hurt by guns, which is three times more than the number of U.S. soldiers injured in the war in Afghanistan.
Nationally, guns kill twice as many children and young people than cancer, five times as many than heart disease and 15 times more than infection, according to the New England Journal of Medicine.
"We've watered down what life is. We used to have fistfights. Now folks are pulling out guns," he said.
Williams said that from what he sees daily, he thinks that one reason for gun-related deaths is video games.
"But you can't push the restart button and start over and come back to life," he said.
Arrests have been made in six out of seven of the St. Petersburg murders that happened in late 2015. Acostas' killing is the only unsolved case out of the group. Williams thinks that many people who have information about these types of cases stay silent because they're afraid of retaliation or of being called a "snitch".
What many people don't know is that the police will protect those who share crucial information.
"The snitching thing is blown out of proportion," Williams said. "If you see something say something."
Williams hopes that these deaths can be stopped by conversation.
"It can be prevented through communication with each other – young and old alike," he said. "Leaders talk a good game, but this whole community needs to come together to stop the violence."

Gun safety tips
According to experts, the best way to keep events like these young men's deaths from occurring is to store guns in a safe, not easily accessible space. Here are some safety tips:
Store firearms in a locked cabinet, safe, gun vault or storage case when not in use, ensuring they are in a location inaccessible to children and cannot be handled by anyone without grown up permission.
Store your ammunition in a locked location separate from firearms.
Always keep the firearm's muzzle pointed in a safe direction. A "safe direction" means that the gun is pointed so that even if an accidental discharge occurred, it would not result in injury.
Firearms should be unloaded when not actually in use. Whenever you pick up a gun, such as when removing it from or returning it to storage, remember to point it in a safe direction and make sure it is unloaded.
Be sure you know how a firearm operates, whether there's one in the house or not. Read the manual on the firearm, know how to safely open and close the action of the firearm and know how to safely remove any ammunition from the firearm.
Use a gun locking device that renders the firearm inoperable when not in use. A gun lock should be used as an additional safety precaution and not as a substitute for secure storage.
Young people in a home should be aware of and understand the safety guidelines concerning firearms. Always have an adult unload, clean and place the firearms in their secure storage location.
(To read the full transcript of William's press conference with SNN, click here.)
Source: Click Here For Original Story